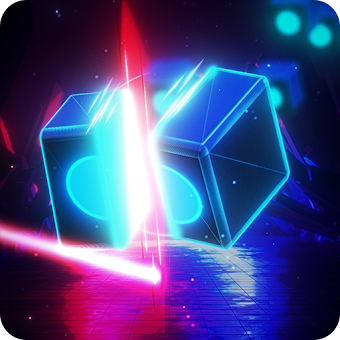 Beat Blader 3D: Dash and Slash (Unlocked All Content)
Beat Runner Music Game with stunning neon levels 🤟
= 1){ current = current - 1}">
Description
Beat Blader 3D: Dash and Slash belongs to the category of Music Games for Android and it has been developed by AMANOTES PTE LTD. Download the latest version (1.11.70) of the APK mod here in APKem.com which was released on 2023-09-22.
Beat Blader 3D: Dash and Slash (Unlocked All Content) has been voted 45.4k times with an average score of 3.8 since 2022-08-29. It's Free and the file size is 151.5 MB. The last version of its download is optimized for the version 19 (Android 4.4+).
Runner + music + rhythm + Slash = AMAZING!
Let's play this game for your joyful holiday. BEAT BLADER 3D, a reckless music adventure where you turn yourself into such cool Beat Smasher Heroes to complete this challenging journey!
𝐇𝐎𝐖 𝐓𝐎 𝐏𝐋𝐀𝐘❓
1. Choose your favorite song 🎶🎶
2. Choose a Beat Blader character and a stunning weapon to play 💃
3. Feel the beat 🤟. Swipe left and right to help your runner avoid the obstacles as they come closer and slash the cubes to finish the color rhythm road. Do not Tap! This is not a Tap Tap music game.
𝐊𝐄𝐘 𝐅𝐄𝐀𝐓𝐔𝐑𝐄𝐒
1. Various FANTASTIC Beat Blader characters to choose . A wide range of incredible sabers.
2. Impressive 3D graphics with neon lights glowing synced with the beat.
3. 3000+ new hot songs of all genres including POP, EDM, Hip Hop, KPOP, Dance, etc,..
4. Different sound effects on slashing the cubes that helps you to make a new remix of your favorite songs.
5. Thrilling level designs.
And a lot more interesting features are on the way! We're trying our best to bring you a whole new music experience ever 🤘
Let's grab this game and SLICE the BEAT. It's time to become the HERO of Beat Blader 3D! 🤟🤟🤟
*Terms of use: https://static.amanotes.com/terms-of-service/
*Privacy Policy: https://static.amanotes.com/privacy-policy/
*Support: Are you having any problems? Send the email to [email protected]. We're willing to support you if any issues happened 😍
Beat Blader 3D is from Amanotes. Music lovers can interact with thousand of songs through our different apps. Why just listen to music, if you can also play with it? At Amanotes, we believe that "everyone can music!".